Dear Body Forte' family,
Big thanks to you! Our patients and clients who have supported us over the past 12 years and especially through the last roller coaster of a year as we navigated through the Covid19 pandemic. Our vision has always been our guiding light….
To enhance lives by helping people move better and feel better by providing the best Physical Therapy and Pilates service and expierience.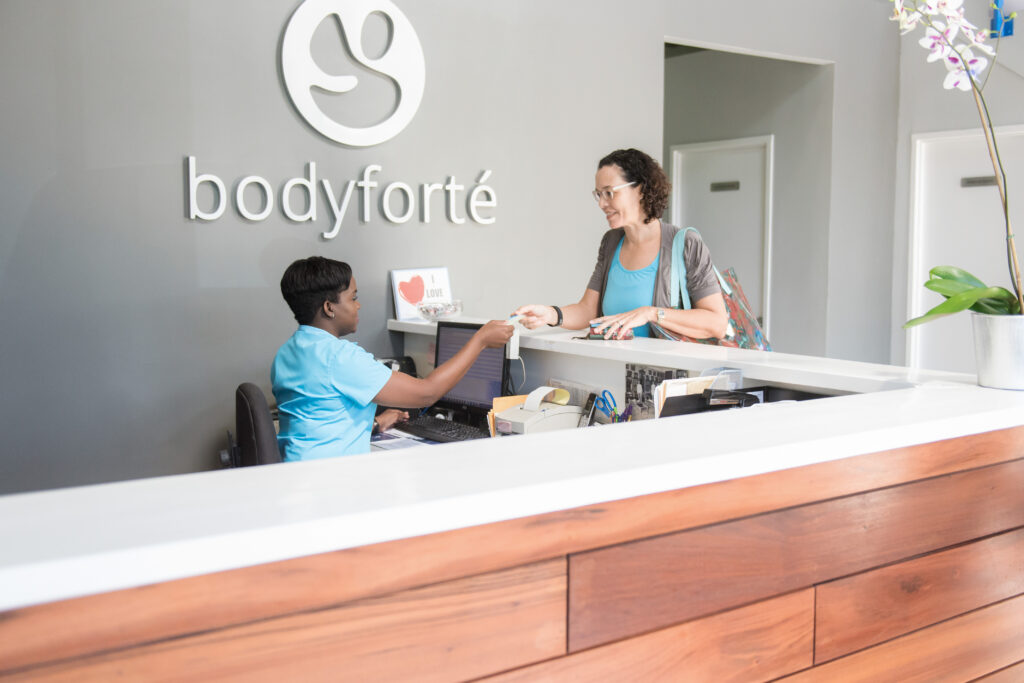 We want to continue being here for YOU and maintain the cornerstones of our practice which are one on one care, guaranteed on time appointments and our hands-on approach. In order to do this, we are rolling out a few changes.
Since the pandemic we have been focusing more on Physical Therapy. Remember, we accept health insurance once you have a referral from your doctor.
Physical Therapy Evaluation – $9000 during this 55-minute session your therapist will assess you and find the cause of your pain or functional loss and you will walk out with a written plan of care outlining how many sessions you will need and what they will entail. Often times treatment is started during this initial session as well.
Physical Therapy Follow Up – $8500 for 55 minutes.
Physical Therapy Follow Up – $5000 for 30 minutes.
Physical Therapy Clinic – $6000 – during this session you are guaranteed 30 minutes of one-on-one time with your Physical Therapist, after which you will be supervised by our wellness concierge (who is also a trained nurse) as you complete your exercises, receive soothing moist heat or ice and pain reducing modalities.
Pilates Privates and classes are still available too.
Enjoying a Pilates private session with a licensed Physical Therapist allows you to get the best of both the medical and movement worlds
Clinical Pilates Private – $7500
Clinical Pilates Private Pack of 10 – $70,000
*Some insurance companies cover this as Physiotherapy so please speak to our front desk to see if you are eligible*
Share your Clinical Pilates Private with a friend for $4500 per person.
Group Pilates classes both LARGE and SMALL.
Our signature SMALL studio classes (on the reformers, EXO chairs and towers with 5 participants)
$3500 for a drop in
$30,000 for a pack of 10
Our live and on demand Pilates Online Mat Classes (a blend of Physiotherapy and Pilates – feel the burn)
$2000 for a drop in
$15,000 of a pack of 10
Pilates Parties
Celebrate your birthday or special occasion with a Pilates party! Rent out our beautiful studio for 10 (or less) of your bestie's and have us teach them a class, show case our services and enjoy some refreshments.
We have also had companies use this service as part of their team building for their various departments.
Workplace Wellness
Give the gift of health to your company! Let your employees walk away with positive, practical, achievable and scientifically proven ways to be healthier and happier while at their desks!
Via Zoom $20,000 for a 45-minute session.
In person price on request.
Thanks for trusting us with your Physical Therapy and Pilates needs.
In Health,
Summer and the entire Body Forté team.
READY TO BOOK A PHYSIOTHERAPY SESSION OR JOIN A PILATES CLASS?
Found this article helpful? Share it with your friends and family!