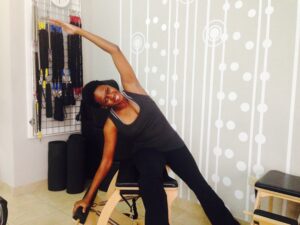 I was so happy to find a Pilates machine studio in Kingston! I was just over 10 months post partum and had been rather fit throughout my pregnancy doing yoga right up until my son's birth.
Although I had lost most of my baby weight rather quickly, my stomach was far from flat (I apparently had the "mummy tummy" bulge) due to the abdominal separation I had experienced before and during delivery. The best cure: lots of core exercises; however I found most of these exercises to be a bit boring after awhile….until I found Body Forte! After about 8 sessions at the studio, my stomach looked just about flat (ok, it will probably never be 100% flat again, I have accepted this (!) but the bulge had to go…). The studio has a warm atmosphere and the instructors are very attentive. I highly recommend it to anyone out there looking to strengthen their core muscles in an exciting way (the hour-long class finishes before you realize) while always utilizing the proper form.
I found pilates with the machine to be more effective than using the mat because the machine ensures that your form is always correct and instructors can more easily correct you. I wish I had taken pictures before and after but I was so happy to find this studio in Kingston that I had to share this story in case any post partum mom out there could find it helpful. If I have another child, I am hoping Body Forte has a prenatal program that I can attend throughout a future pregnancy.
Happy Core Building! -Mariame